Download the Free Trial version of:
The Ultimate Unit Converter - convert lbs to kg, celcius to farenheit, deg to rad, mb to gb, kilometers to miles,gallons to litres,watts to btu,days to months,barrels to bushels,mole to kilomole, metric conversion, imperial conversion, plus much more!!

The file is approximately 2 MB, and should only take a few minutes to download.

Once downloaded, simply run the ultimateconvertereval.exe file, and then simply follow the instructions to begin using it. Enjoy! This software runs on Windows 98/2000/XP and Windows Vista.

Click here for a complete listing of other software products that you can download.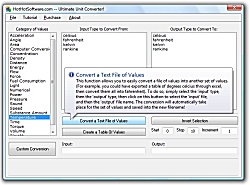 Click the above link for a larger image!