Find and Replace Text in Multiple Text Files or Multiple HTML Files --

Find and replace text in multiple html or text files using this software! If you want to know how to do it, get it now! With this software:
Recursively select a set of text or HTML files that you wish to search for text in (text find)
Automatically find and replace text. You can use simple queries, or more sophisticated queries (using regular expressions)
Replace multiple occurances of text in the html files
And it is very easy to use!
Try out this free find and replace text software now!



You can order by credit card, Phone/Fax, Mail, PayPal or purchase orders!

Purchase it now! Only $29.95 U.S. for a limited time!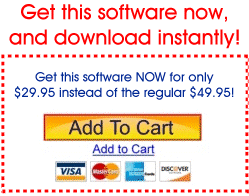 Tutorial Video! (Click to View)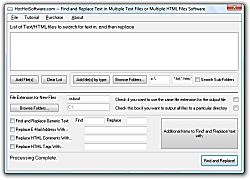 Click above for a larger screenshot!
Click here to read testimonials!
Win online sweepstakes! Click for more details...!