Z Brain Upgrade software to upgrade your brain capacity and speed using your computer --

PLEASE NOTE: THIS SOFTWARE IS FOR FUN/A JOKE. APPARENTLY SOME PEOPLE BELIEVE THAT IT WILL REALLY UPGRADE THEIR BRAIN. ENJOY THE SOFTWARE.

Revolutionary new software to upgrade your brain using your computer's CPU. Run this software on any standard PC made in the last three years to upgrade your brain. You can select from the amount of your CPU to use to apply towards increased brain speed, and the amount of RAM to apply towards increased memory capacity. The software only takes about two minutes to run. You simply select the two amounts, sit three feet away from your computer, and then click on the scanning process, after which the software can start the upgrade using your computers CPU and RAM.

You can order by credit card, Phone/Fax, Mail, PayPal or purchase orders!

Purchase it now! Only $29.95 U.S. for a limited time!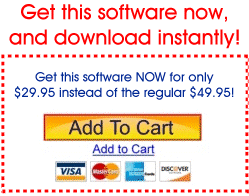 Tutorial Video! (Click to View)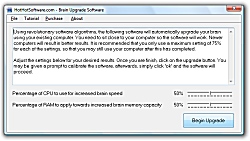 Click above for a larger screenshot!
Click here to read testimonials!
Win online sweepstakes! Click for more details...!