Remove or delete duplicate lines or duplicate words from multiple files --

Remove duplicates, duplicate lines, duplicate words, and more from one or many different text files. Create a backup file, or overwrite the existing file with this software. With this software, you can easily:
Select a bunch of files to access recursively and remove duplicates from
Specify the type of duplicates to remove
Specify a word list and/or character list that you wish to remove
Plus much more!
Try out the software now!

You can order by credit card, Phone/Fax, Mail, PayPal or purchase orders!

Purchase it now! Only $29.95 U.S. for a limited time!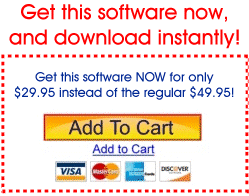 Tutorial Video! (Click to View)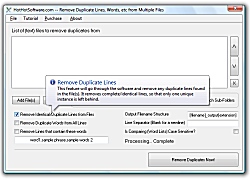 Click above for a larger screenshot!
Click here to read testimonials!
Win online sweepstakes! Click for more details...!