MS Word Extract E-Mail Addresses from Multiple Files and Documents --

If you want to know how to extract e-mail addresses from multiple ms word documents/files, then this software is for you! With this software, you can:
Easily select a number of ms word documents to get the e-mail addresses from
The software will then go through each msword document and extract the e-mail addresses, and save them in a list
You can remove duplicate e-mail addresses from the list
Sort the lists of e-mail addresses in ascending or descending order, then save to a file
Choose how e-mail addresses should be separated (i.e., newlines, by commas/csv, etc!)
Try out this software today, try it in MSWord 2000, 2003 and MSWord 2007!



You can order by credit card, Phone/Fax, Mail, PayPal or purchase orders!

Purchase it now! Only $29.95 U.S. for a limited time!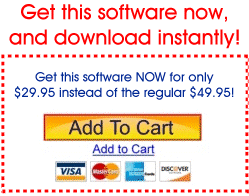 Tutorial Video! (Click to View)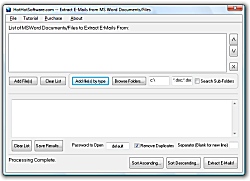 Click above for a larger screenshot!
Click here to read testimonials!
Win online sweepstakes! Click for more details...!