Excel Split Cells Function to divide into multiple rows or multiple columns --

If you want to know how to split excel cells into multiple cells/multiple rows or multiple columsn, then you should try this software! With this software, you can easily select a group of cells to divide and then divide them! With this software:
Select a block/range of excel cells
Select the target location for the cells
Split excel data by certain characteristics (i.e., split excel cells by phrases, split by special delimiters (i.e., tabs, commas, etc), and more!
Use it to break up sets of names, sets of financial data, unformatted text, and more!
And finally, it simply makes it easier to manage large sets of data!
These simplifies managing your excel spreadsheets many times over! Try this excel template/add-in software now for free!



You can order by credit card, Phone/Fax, Mail, PayPal or purchase orders!

Purchase it now! Only $29.95 U.S. for a limited time!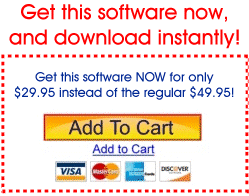 Tutorial Video! (Click to View)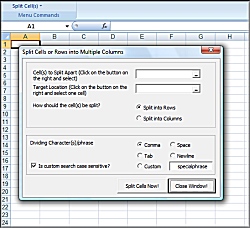 Click above for a larger screenshot!
Click here to read testimonials!
Win online sweepstakes! Click for more details...!