1-2-3 StockBuddy DayTrading DayTrader --

This software is a great tool to help manage your stock portfolio! It is only $5/month, and for that $5 you get access to all these great tools, plus you can offer suggestions to us to improve the software to make your day trading experience and success even greater! Currently, with this software, you can:
Easily enter the stocks that you want to monitor, separated by commas
Compare them side by side graphically by candles, bars or lines
You can monitor stock trends, symbols, zoom, select different terms
PLUS -- give us suggestions to improve this software to implement!
Please note -- since this software relies on external data/information, not all information may be available all the time. However, we will do our best to ensure that all the information is available all the time! If you have any other tools you want implemented, let us know! Get the full version now, or try the evaluation version for free whereby you can view a selection of stocks!



You can order by credit card, Phone/Fax, Mail, PayPal or purchase orders!

Purchase it now! Only $5 U.S. for a limited time!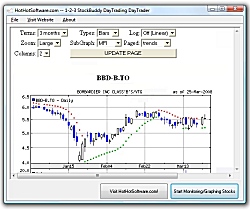 Click above for a larger screenshot!
Click here to read testimonials!
Win online sweepstakes! Click for more details...!